Advanced Frame
ID
1001:3
Stackable
Yes(64)
Type
Materials
Craftable
Yes
Added By
Artifice
Advanced Frame is a block added by Artifice. It is used in creating advanced artifice blocks.
Crafting
Edit
Planks and Steel Ingots can be of any material type, including those added by Natura.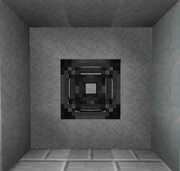 It is used in crafting Advanced Blast Walls, Advanced Glass Walls, and Advanced Scaffolding.