Basalt Antipaver
ID
Unknown
Stackable
Yes (64)
Type
Unknown
Craftable
Yes
Added By
Artifice
Basalt Antipaver is a block added by Artifice. It is the counterpart of the Basalt Paver.
Crafting
Edit
Basalt Antipaver can be turned into Basalt Antipaver Slabs or back into Basalt Paver.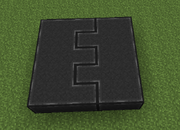 Basalt Antipavers behave exactly like Basalt Pavers, and hence use a connected texture. The textures connect between adjacent blocks, but not between Pavers and Antipavers. To achieve borders between pavers, a combination of the two should be used.