Basalt Paver
ID
Unknown
Stackable
Yes (64)
Type
Unknown
Craftable
Yes
Added By
Artifice
Basalt Paver is a block added by Artifice.
Crafting
Edit
Basalt Paver can be turned into Basalt Paver Slabs, and Basalt Antipaver.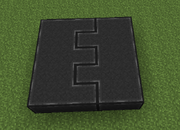 For purely aesthetic purposes, Basalt Pavers use a connected texture which eliminates borders between connected blocks. If borders are still desired, they should be used in conjunction with Basalt Antipavers.