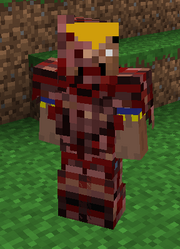 Biomass Armor is armor added by Harken Scythe. It is crafted using Biomass. All Biomass equipment repairs when you collect blood. The amount repaired is based on the source of the blood. Red blood, from Zombies, repairs 2 durability. Green blood, from Spiders and Creepers, repairs 4 durability. Purple blood, from Endermen, repairs 6 durability. Blood is not used up to repair the tool; the process by itself repairs the tools.
Crafting
Edit
Helmet
Chestplate
Leggings
Boots
Community content is available under
CC-BY-SA
unless otherwise noted.