Blueberry
ID
Unknown
Stackable
Yes (64)
Type
Consumables
Craftable
No
Added By
Natura
Blueberries are a food item added by Natura, and they grow on Blueberry Bushes. They restore 1 point of hunger (

) and are eaten 2 times faster than other foods, a quality that other berries share. They can be consumed even when the hunger bar is full (only counting towards hunger saturation). Blueberries (and any other berries) are ingredients to the Berry Medley.
All berries are interchangeable with other berries.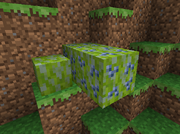 Blueberries can be obtained from Blueberry Bushes by clicking on a fully grown bush with blue dots resembling blueberries. Upon collection, the bluberries will disappear from the bush and be put directly into the player's inventory or if full, dropped on the ground. More information can be found on the Blueberry Bush page.
Community content is available under
CC-BY-SA
unless otherwise noted.