Bottle o' Enchanting
ID
384
Stackable
Yes (64)
Type
Potions
Craftable
No
Added By
Vanilla
Bottle o' Enchanting is an item added by Vanilla Minecraft. This bottle gives the player a fair amount of XP for enchanting when thrown.
The Bottle o' Enchanting gives off a fair amount of XP when thrown. These bottles are rare, and are mainly found in Battle Towers, Dungeons, or can be obtained though Villager trades. Due to their rarity, these bottles are found unreliable compared to their counterpart, the Concentrated Essence Berry.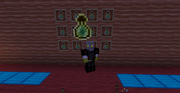 Community content is available under
CC-BY-SA
unless otherwise noted.