Visit the Minecraft Wiki for basic information about Cactus
Cactus is a plant added by vanilla Minecraft. It naturally appears in deserts, and can only be farmed on sand.It cannot be placed next to another block, aside from a few transparent ones, such as Fire or Torches. It is used to make Cactus Green dye by cooking it in a furnace.Collision with a Cactus will harm the Player or Mobs,dealing 1 damage.Any items dropped on the Cacti will be destroyed.It can be placed in the Flower Pot.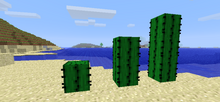 If placed,the Cactus will slowly grow up to 3 blocks in height.Cactus blocks can be placed one on another,exceeding the height limit.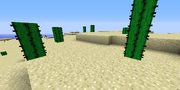 Tinkers' Construct
Edit
Cactus can be used as a toolmaking material in Tinkers' Construct. It has average durability and mining power, and has slightly increased damage because it has a base modifier of Jagged, which increases melee damage but lowers mining speed as the tool or weapon becomes more damaged. Cactus parts are made with wooden patterns.
Project Zulu Core
Edit
Cactus can be made into cactus cloth armor. Cactus cloth has the same protection as leather armor.
It is also made into Prickly Powder.
ExtrabiomesXL
Edit
Cactus can be made into Cactus Paste, which can be smelted using a furnace into cactus green.
Cactus can be made into Cactus Juice as an edible.
Community content is available under
CC-BY-SA
unless otherwise noted.