Chocobo Saddle
ID
5741
Stackable
No
Type
Utility
Craftable
Yes
Added By
Chococraft
A Chocobo Saddle is a type of saddle used to ride on a Chocobo after it is tamed using a Gysahl Green. It can be equipped on a tamed Chocobo by right-clicking a tamed Chocobo with the saddle on your hand. Players can then ride on a Chocobo by right-clicking on the Chocobo again, with the saddle in hand. You can also equip your Chocobo with Chocobo Saddle Bags for storage.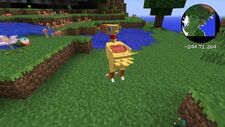 See Tutorial:Chocobo Riding for more information.
Crafting Edit
Community content is available under
CC-BY-SA
unless otherwise noted.