Creeper Blossom
s are flowers that have 3 white, symmetrical petals that can be picked up by punching it from a distance, or by crouching.  Creeper Blossoms are plants that,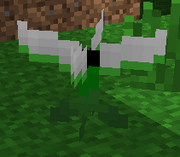 when stepped on, trigger an explosion after a delay in a manner similar to TNT. They are found in forests in roughly 1 of every 100 Chunks. Sneaking will not trigger the explosion, allowing them to be gathered safely.
Location
Found in different biomes, typically in semi-small to medium forests.