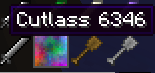 The Cutlass is a secret weapon from the
Tinker's Construct
mod. It has a chance to do a 10% increased damage on a critical hit (not the vanilla critical hit). It also does high damage, in general, without the crit.
Crafting
You craft the cutlass by using a Tool Station. It requires a sword blade, tool rod, and a full guard. The Full Guard pattern can only be found inside pattern chests spawned in special NPC village houses. You can create it on the longsword tab.
Trivia
The Cutlass is one of 3 'secret' weapons, and the only one craftable.
The Cutlass is the only Tinker's Construct weapon to require a pattern that needs to be found, not created.
It is also the only weapon to share the same tab as another weapon.
Community content is available under
CC-BY-SA
unless otherwise noted.