Display Cases, which are similar to Item Frames, are part of the Bibliocraft mod.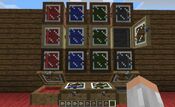 The case itself can be opened by sneaking and right clicking at it at the same time. Then, right-clicking on it with your desired item will place the item inside the Display Case. When the small door is closed, the items cannot be removed. It can be placed horizontally or vertically. 
It can be crafted with any of the four vanilla woods (Oak, Birch, Jungle, or Spruce), and the cushions inside have four color options (red, blue, green, or black) for a total of 16 different combinations of Display Cases. Their appearance also changes depending if they are on the floor, wall, or ceiling.
Crafting
Edit
Community content is available under
CC-BY-SA
unless otherwise noted.