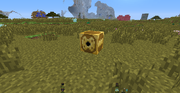 The Drawbridge is a machine, added by Tinkers' Construct, that allows for a bridge to be built up to 15 blocks long, the Drawbridge is activated with a redstone current and is deactivated by taking away a restone current. The Drawbridge can also be camouflaged with most every solid block. The drawbridge can be placed vertically as well, so you can have it go up or down.

Crafting
Bugs
The features the Drawbridge allows include
A 15-block long bridge
Camouflage skin
Bugs
Any non-solid block put in the camouflage slot will cause any player close to the Drawbridge to crash until the item is removed from the camouflage slot.
Any biome-colored block (such as grass) will show up as grey.