Magical essences are found in chests and from mob drops from the Better Dungeons mod. They can be used to craft some items with magical properties.
There are nine essences; eight base essences (Darkness, Electric, Ice, Fire, Life, Poison, Water and Wind) that may be used separately to make Elemental Arrows, Elemental Grenades, or Staves, or may be combined together to make the ninth: Magic essence, which is only used in crafting the staff (which is used to make the Elemental Staves).
Staff/Staves
Edit
There are eight staves that are made from each of the eight essences.The basic staff has no attributes until combined with an essence. Left-Clicking and Right-Clicking have different effects. Left Clicking with a staff will not use up the staff's energy reserves.
Crafting a Staff.
There are eight types of Elemental Arrows that are made from each of the eight essences:
Note: Should the player be hit by any of these arrows, their effects will apply to the player. Bows enchanted with the "Infinity I" enchantment still use up the Elemental Arrows. Any Elemental Arrows picked up that were missed shots are picked up as regular arrows.
Elemental Arrows will be used up in order from left to right from hotbar first, and prioritizes over regular arrows, even if the regular arrow is first in line. It will then pull from your inventory in the same fashion, moving down a row if there are none left in the row. Again, it will skip over regular arrows until all Elemental Arrows are exhausted first.
Hexxit adds 2 kinds of quivers. Neither will take Elemental Arrows, only regular arrows. Elemental Arrows are still given precedence over quivers.
Warning: Do not quickly right-click (or spam right-click for that matter) when using Elemental Arrows as it will not fire and will waste an arrow. The sound will still play, but there is no projectile created.
Elemental Grenades
Edit
Note: All Elemental Grenades that do damage do not damage the player. All negative effects noted do not apply to the player either. When using the Water Grenade, if you are in the splash radius, you may find that you are affected by the status of Nausea, but it does not actually affect you. Zombies may also take 1 less damage on occasion due to their natural armor, and Enderman do not receive any of the immediate damage.
Using the Life Element on Rare enemies
Edit
Infernal Mobs are "Boss" class enemies found throughout the land. They all have special characteristics that easily identify them as a stronger enemy. Each rare enemy has a multitude of colored swirls, similar to that of potion effects, have a unique boss name, and have more life than the standard enemy as well as other special properties which are listed under its unique boss name. They also drop rare (usually diamond) loot.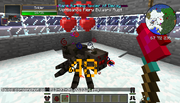 When using either the Life Arrow or the Healing Staff, you may actually "heal" the boss to the point of it dropping to a regular enemy's health. This applies to using Splash Potions of Healing (Or Instant Damage for the Undead) as well. This is probably because the enemy's max life had been extended rather than permanently modified, but it is still an enemy of the same class, nonetheless. For example, the image on the right shows a Rare Spider taking 48 damage, but having 16 base life (The normal HP for Spiders) and is still at full health.
Healing a boss (or any enemy) when it's HP is lower than the base HP will actually heal them. You can heal them up until it's HP is at the class's max HP.
Life Grenades do not have this effect as the grenade just gives Regeneration II instead of directly healing.
This effect does not work on "boss" mobs from mods other than Infernal Mobs.
"Boss" mobs that regenerate health naturally will take their health past the enemy's class max HP, allowing you to repeat the process. Regeneration from Splash Potions or Life Grenades will not speed up a regenerating boss's regeneration rate.
Community content is available under
CC-BY-SA
unless otherwise noted.