Visit the Minecraft Wiki for basic information about Fence Gate
Fence Gate
The Fence Gate is a wooden block added by Vanilla Minecraft.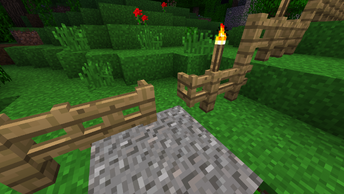 The Player can open the Fence Gate with a right-click.
The Fence Gate cannot be jumped as cobblestone walls and other fences cannot be jumped over. It works similarly like a door and is an effective tool that cannot be broken by Zombies and can keep the mobs out; two Fence Gates are required, however, to protect the player from Skeletons, who can fire arrows over the Fence Gate at the player.
Community content is available under
CC-BY-SA
unless otherwise noted.