Fire is a harmful block added by vanilla Minecraft. Touching the fire will result in Player and most mobs igniting, dealing 1 damage per second. Fire will spread onto burnable blocks around it, destroying them and any dropped items that it comes into contact with.
Using a Flint and Steel on a burnable block will start a fire. Fire will also be spread by a Bed exploding in Nether or Ghast and Blaze fireballs hitting the ground. Lightning hitting the ground will also start fire. Obtaining fire as an item can only be done by using the Uncrafting Table on chain armor.
It is only used in crafting the chain armor from vanilla Minecraft, which then could be turned into steel with a Smeltery.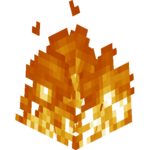 Community content is available under
CC-BY-SA
unless otherwise noted.