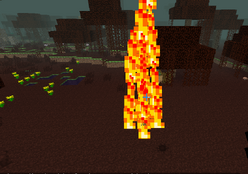 The Fire Jet is a block added by the Twilight Forest mod. Fire Jets can be found in the Twilight Forest's Fire Swamp.
Uses
[
]
Fire Jets are only used in the crafting of the Encased Fire Jet.
For any Fire Jet to activate, there must be a 3x3 hole underneath the jet filled with lava.
The only non-aesthetic function of a Fire Jet is startling others that may be near the Fire Jet.
Twilight Forest Blocks
Natural
Anti-builder • Canopy Tree Leaves • Canopy Tree Wood • Carminite Builder • Darkwood Leaves • Darkwood Wood • Fire Jet • Ghast Trap • Hedge • Mangrove Leaves • Mangrove Wood • Mazestone ( Chiseled • Border • Brick • Cracked Brick • Decorative Brick • Mosaic • Mossy Brick) • Nagastone ( Head) • Rainbow Oak Leaves • Reappearing Block • Smoking Block • Towerwood ( Cracked • Encased • Infested • Mossy) • Twilight Oak Leaves • Twilight Oak Wood • Vanishing Block ( Locked • Unlocked)
Manufactured
Carminite Builder • Minewood ( Miner's Leaves) • Sortingwood ( Sorting Leaves) • Timewood ( Leaves) • Towerwood ( Encased) • Transwood ( Leaves of Transformation) • Uncrafting Table
Utility
Cicada • Firefly • Firefly Jar • Heart of Transformation • Minewood Core • Moonworm • Sortingwood Engine • Timewood Clock • Uncrafting Table
Mechanisms
Encased Fire Jet • Encased Smoker • Reappearing Block • Vanishing Block ( Locked • Unlocked)
Plants
Canopy Tree Leaves • Canopy Tree Wood • Darkwood Leaves • Darkwood Wood • Fiddlehead • Liveroots • Mangrove Leaves • Mangrove Wood • Mayapple • Moss Patch • Mushgloom • Rainbow Oak Leaves • Roots • Root Strands • Torchberry Plant • Twilight Oak Leaves • Twilight Oak Wood
Technical
16px

1351:4

• 1371 • Active Built Carminite Block • Active Reappearing Block • Anti-built Block • Built Carminite Block • Carminite Reactor Debris • False Diamond • False Gold • Twilight Forest Portal • Spawner ( Hydra • Lich • Naga • Ur-ghast)