Frezarite Leggings is a new armor piece from the Falling Meteors mod. The leggings give the wearer 1.5 bars of armor. It is enchanted with Cold Touch I after right-clicking, and they allow the wearer to freeze water blocks beneath them, allowing you to walk on water. This can be done indefinitely, as this ability doesn't use up durability on the leggings. If three parts of armor are equipped, water is frozen 4x4x2. It is possible to sprint-jump on the ice just like normal ice. This makes you move much faster, but depletes your food bar quickly.
WARNING: If you have Frezarite Leggings or Boots, do not jump into a pool of water from high up. The ice will form before you land, and you will most likely die from fall damage.
This ice can be used to cross water easily.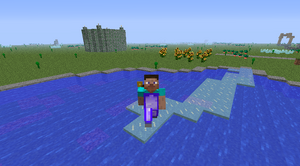 Crafting
Edit
Community content is available under
CC-BY-SA
unless otherwise noted.