This article may not be 100% accurate due to an upcoming modpack version.
This item was removed in Hexxit 2.0.1c due to the removal of the Asgard Shield mod.
Gilded Nether Quartz Shield
ID
5573
Stackable
No
Type
Unknown
Craftable
No
Durability
478 uses
Added By
Asgard Shield
Gilded Nether Quartz Shield is a shield added by Asgard Shield mod. Special Perk: Fire Catch - Weakness: Fatigue. It has 478 Durability.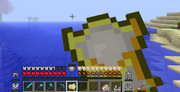 Crafting this will result in a giant diamond sword.
Community content is available under
CC-BY-SA
unless otherwise noted.