For other type of trophy, see Trophy (Disambiguation).
Hydra Trophy
Hydra Trophy placed on ground (left), and placed on wall (right)
ID
7530
Stackable
Yes (64)
Type
Decorative
Craftable
No
Is Loot
Yes
Light Emitted
0
Opacity
Non-Opaque
Smeltable
No
Added By
Twilight Forest
Hydra Trophy is a block added by Twilight Forest. It can be obtained by killing a Hydra, which is the boss in Hydra Lair, inside Twilight Forest Dimension.
When placed on ground, it's mouth is closed; if placed on wall, it's mouth is open (looks like it is going to spit fire).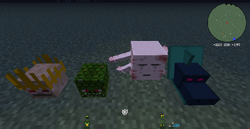 All Hydras have 100% chance to drop 1 Hydra Trophy.