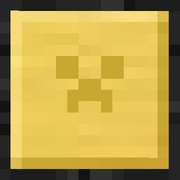 Large Plate Cast is a tool component added by Tinkers' Construct to make the Large Plate used in various tools.
Crafting
[
]
In order to craft a Large Plate Cast, 288mB (eight ingot's worth) of Molten Gold or Molten Aluminum Brass is needed. Make a Large Plate using a Part Builder, then place it on the Casting Table and pour the molten metal into it.
Uses
[
]
Large Plate Cast is used in the crafting of Large Plates from a Smeltery by a Casting Table.