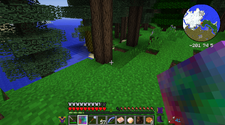 Lumber Axe is an item type from Tinkers' Construct that is an upgrade to the axe. It requires a Large Plate, Tough Tool Rod, Broad Axe Head and a Tough Binding. It is crafted by only using the Tool Forge as the Lumber Axe isn't an option for the Tool Station.
Abilities
[
]
Felling Trees (made obsolete by the treecapitator mod; however this may be useful for trees on which this mod does not work)
Has a 3x3x3 area of effect
Average damage valueBugs
There are some tree types (such as the bark of larger trees) that will not be chopped down with a Lumber Axe.
Trivia
[
]
Placing and breaking a wooden pressure plate with a Lumber Axe on wood blocks will cause all the blocks under and around it to break, allowing quick destruction of wooden floors or hard wood blocks such as Towerwood
A Lumber Axe with a Lava Crystal attached will turn an entire tree into Charcoal upon breaking. This is an extremely efficient way of obtaining fuel for a Furnace or to make

Torches

.
The Lumber axe's 3x3x3 area of effect must be used carefully, as it will destroy walls or other blocks directly adjacent to where the player used it.
Bugged Item
[
]
For removing this item from generating, see Forum:Lumber_Axe_removal.
Lumber Axe is found in Battle Towers as a bugged item, as it has the sprite of a multicolored square, and is a crashing machine, unlike the real Lumber Axe that is created using a Tool Forge.
In Battle Towers, Lumber Axes in chest do stack, however when you 'unstack' it, it can't be stacked again
If you left click or right click with a Lumber Axe, your game will crash, but if you right click it will place a torch before the game crashes, but when you get back on it will not be there.
It is recommended to avoid using this bugged item and may be better off leaving it behind or throw it in a trash disposal to get rid of it.
Trivia
[
]
Lumber Axe (from battletower) is not the only item using this sprite, ANY Tinker's Construct item that is obtained by using the /give command will have this sprite.
It's unknown if the bugged item sprite was created by accident or by the author themself, wanting to make a placeholder sprite, as glitches aren't that nice.
The bugged Lumber Axe can be hung from a Drying Rack to make a rainbow "painting".
The bugged Lumber Axe has a similar sprite to Magic Essence.