The Magic Mirror is a utilty item added by LegendGear that allows a user to teleport to the last block open to the sky they stood on while the mirror was in their inventory.
Obtaining
[
]
The Magic Mirror can be obtained from chests on the higher floors of Battle Towers, or crafted as shown below.
Crafting
[
]
The Magic Mirror is crafted using four Ender Pearls, four Gold Ingots, and one Diamond.
Usage
[
]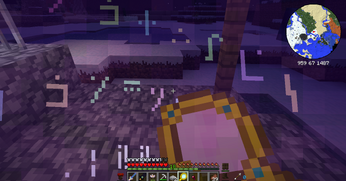 The mirror must be in the player's inventory while in direct contact with the sky at least once after it is crafted or found. This gives the mirror a location to transport to.
When in sunlight (or moonlight), the mirror will have a noticeably darker shade than when under an opaque block. This is an easy notification of when it can be used.
To use the Magic Mirror, hold right-click the mirror while you are not in contact with the sky. An animation will start with symbols floating around the screen. The player will then be teleported to where they were last standing directly beneath the sky. Whenever the mirror cannot be used, it will make an extinguishing sound whenever you right click with it.
This item is of no use if the player is in direct sunlight.
The Magic Mirror works normally only in the Overworld and Twilight Forest. It will not work in Pocket Dimensions, the Nether, or the End.
Tips
[
]
The Magic Mirror can be used to easily escape from dungeons, including battle towers, provided you have not reached the top yet.
Glass still counts as open sky. Glass from any mod within Hexxit will work as well, however, One-Way Glass will not, no matter how it is oriented.
The Magic Mirror can be exploited by placing the mirror inside a Backpack while traveling outside, preventing it from updating the location to teleport. This allows one to teleport great distances and is particularly useful for teleporting back to a central base after exploring distant lands.
Bugs
[
]
The Magic Mirror treats Soulweave and Bloodweave cloth as transparent. This may not be a bug, as sunlight passes through both of these blocks normally.
If the Magic Mirror is used in the Twilight Forest Dimension, there is no animation, and once the teleportation process is started it cannot be stopped. However, the sound will still play.
If the Magic Mirror is used in the End, the mirror will change animations when losing direct contact with the sky (described above), but it still cannot be used.
Trivia
[
]
This item strongly resembles the Magic Mirror that originated from the Legend of Zelda series, both in appearance and function. In the Legend of Zelda series, the Magic Mirror had similar usage: it could bring the player out of the Dark World.
The Magic Mirror also makes an appearance in Terraria.
It has also been used in the Geometry Dash video.