Maze Slime is a mob included the Twilight Forest mod that is almost identical to the Slimes in Vanilla Minecraft. As such, they have three size variations. The biggest slimes have 16 hearts and deal 3.5 hearts of damage, medium slimes have 4 hearts and deal 2.5 hearts of damage, and small slimes have 1 heart and deal no damage.  They are a "cool-gray" color and spawn in Labyrinths.
The big Maze Slimes can completely block a path, and causes them to be a common obstacle in Labyrinths. A player may find many of them in a Labyrinth. Maze Slimes drop Slimeballs and occasionally Charms of Keeping when killed.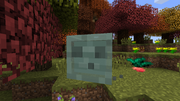 Community content is available under
CC-BY-SA
unless otherwise noted.