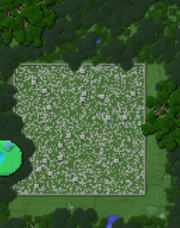 The Naga is a boss mob added by Twilight Forest. The Naga is a serpent that lurks in a Naga Courtyard. It appears as an immense green snake-like creature with a human-like face. Its scales have subtle hints of all sorts of other colors.
Combat
[
]
The Naga is intended to be the first boss of the Twilight Forest. It should be a good fight for an adventurer with iron armor and weapons. In combat, it moves extremely quickly, circling its target before making several charge attacks. Because of its speed, it is advisable to bring a ranged weapon such as a bow to the battle.
As you fight the Naga, it will begin to lose segments, which drift loose and disappear. As it loses segments, the Naga will begin to move faster and faster.
The Naga is bound to its courtyard and will lose interest in targets outside of it. Strange magic protects it from attacks from outside the courtyard boundaries. The Naga will begin to heal if not attacked for a short time.
Tips
[
]
If you stand next to a courtyard wall the Naga will rush to you, when that happens quickly avoid the attack by moving, it will smash through the courtyard wall and if there is a hill next to that wall it will slide up the cliff and quickly swivel around back to you. At that time it will charge with all its speed and will dash to you and if the hill is high enough and you dodge the attack then the Naga will take fall damage. Repeadedly doing this is recommended.
Treasure
[
]
The Naga will drop about 7 Naga Scales, which can be used to make Naga Scale Tunic and Leggings , as well as the decorative Naga Trophy, and a considerable quantity of experience upon death.
Achievements
[
]
| Icon | Title | Description |
| --- | --- | --- |
| | Naga Hunter | Slay the naga |