This article may not be 100% accurate due to an upcoming modpack version.
This item was removed in Hexxit 2.0.1c due to the removal of the Asgard Shield mod.
Nether Quartz Shield
ID
5574:6
Stackable
No
Type
Unknown
Craftable
Yes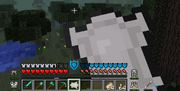 Nether Quartz Shield is a shield added by Asgard Shield mod. Its special ability is Fire Catch and its weakness is Fatigue. Contrary to what one might presume, it cannot be crafted into a Gilded Nether Quartz Shield; however, it can be crafted into a Diamond Giant Sword. This is possible by using the recipe below, but replacing Leather with the Nether Quartz Shield and replacing Nether Quartz with 6 Gold Ingots. If the Nether Quartz Shield is enchanted and used up a bit. The enchantment and durability of the shield carry over to the Diamond Giant Sword if crafted with the shield and the 6 Gold Ingots.
Crafting
Edit
Community content is available under
CC-BY-SA
unless otherwise noted.