Visit the Minecraft Wiki for basic information about Nether Star
Nether Star is an item added by vanilla Minecraft. It is an item acquired by killing the Wither. Its primary use is in crafting the expensive Witherless Rose.
Crafting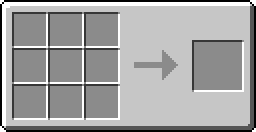 Shapeless
Uses
It is used in the crafting of the Alkahest, Witherless Rose, Ethereal Talisman and Ethereal Amulet. It can also be used for crafting a beacon, which is from vanilla minecraft.
Adding a nether star to a tinkers' construct tool as a modifier in a tool station or tool forge will give the tool 1 extra modifier slot.
Bugs
After acquiring 2 Nether Stars, Diamonds and Glowing Water can be generated for 9 levels by using an Uncrafting Table. This can be repeated indefinitely as long as the player has the levels and Soul Sand necessary to uncraft and resummon the Wither. Although this does make diamonds renewable as Soul Sand can be copied in a recipe involving Redstone, it would be more advisable to gain diamond gear by conquering Battle Towers and repairing old diamond tools with the Enchantment Table's repair feature.
Community content is available under
CC-BY-SA
unless otherwise noted.