The Quantum Computer is a utility block added by qCraft. It can be crafted by using 1 Quantum Dust, 1 glass pane and 7 iron ingots. This block must be combined with 4 observer-dependent blocks topped with obsidian (as high as you'd like) topped with glass. The observer-dependent towers must be four blocks from the computer to work. you must then place an ice block next to the computer in order for that side to become functional. You must then create a second setup in another location (for example at a friend's home) and then you can place blocks inside the square you have now created with observer-dependent block towers and teleport them over.
Crafting
Edit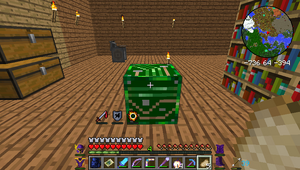 Community content is available under
CC-BY-SA
unless otherwise noted.