Random Streamer
ID
6343
Stackable
Yes (64)
Type
Ammunition
Craftable
No
Enchantable
No
Smeltable
No
Added By
Tinkers' Construct
Random Streamer is an item added by Tinkers' Construct. It is presently unobtainable through legitimate means and will only work with Tinkers' Construct bows. It will not work with any other bow.
When used as an arrow in a Tinkers' Construct bow, a few properties can be observed.
The arrow flies in a rotating pattern through the air. This doesn't affect its flight path, only the graphic of the arrow itself. This causes the Streamer to stick into objects at random angles, up to and including horizontally.
It deals damage based on the random material of its arrowhead.
It will bounce off of targets and can be retrieved. Note that this sometimes causes the Streamer to 'drop' and thus start decaying.
It consumes durability normally with every shot.
Every time something regarding UI happens, whether it be Tinkers' Construct blocks with GUIs, or vanilla minecraft GUI blocks, it will change its appearance in NEI after a small delay. This will not affect any Random Streamers you have in your inventory. It is unknown if this is intentional or not.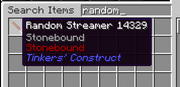 The arrows in NEI or Creative Mode all cycle through random combinations of parts that can be used to build an arrow. It is entirely possible to have three starting modifiers on it at the same time. Since the arrow has access to any modifier, it can potentially have a couple levels of Stonebound on it at the same time. The effects of Jagged and Writable to appear to still work however. Once again, it's not known if it is intentional or not.
Community content is available under
CC-BY-SA
unless otherwise noted.