(Reverted vandalism)

(37 intermediate revisions by 19 users not shown)
Line 1:
Line 1:
 
+

{{Block

−

{{Item Infobox

 
 
+

|image=BSM_reinforcedChests.gif

−

|title=Reinforced Chests

+

|=Reinforced

−

|image=Grid_Reinforced_Iron_Chest.png

 
 
⚫
−

|imagewidth=100

 
 
⚫
−

|imagecaption=Reinforced Chest (Iron)

 
 
+

|craftable=Yes

⚫
 
 
+

|type=Containers

⚫
 
 
+

|id=1053 - 1053:8|isfuel = Yes}}The '''Reinforced Chest''' is a new variant of normal chests added by the [[Better Storage]] mod that comes in different types of metal reinforcement. They differ from [[Vanilla]] [[Chest]]s in a few ways. They have 12 extra slots for storage and are resistant to [[Creeper]] explosions. There are 8 variants of reinforced chests: [[Iron]], [[Gold]], [[Diamond]], [[Emerald]], [[Copper]], [[Tin]], Zinc and Silver. All of them, except for Zinc and Silver as their metals do not exist in Hexxit, are craftable. The materials only affect the look, not the quantity that they can hold. You can also lock your reinforced chests by right-clicking the chest with a [[Lock]]. They are classified as wooden blocks and as such can be destroyed most efficiently by using [[Axes]].

−

|Item id=1053 - 1053:8

 
−

|moreinfo=Available Types:

 
−

Iron

 
−

Gold

 
−

Diamond

 
−

Emerald

 
−

Copper

 
−

Tin

 
−

Silver

 
−

Zinc}}

 
 
 
 
+

Just like their normal [[Minecraft]] counterparts, they will form a double chest if two Reinforced Chests of the same mineral are placed next to each other.

−

Reinforced Chests are normal chests with 12 extra slots for storage and are impervious to explosions. They also combine to form a larger storage area when placed next to each other, and by using chests of different metals, one can solve the age-old problem of not being able to place chests right next to each other, as seen in the image. They can be made from different materials (iron, gold, diamond, emerald, copper, tin, zinc and silver). Material only affects the aesthetic look of the chest. You can use locks to protect your chest.

 
−
 
−

The material used in the chest does not affect the amount of storage it has nor does it affect its durability.

 
−
 
−

Reinforced Chests should be destroyed with axes, as they can't be mined with pickaxes.

 
 
 
 

== Crafting ==

 

== Crafting ==

⚫
 
 
 
 
⚫
−

Materials:

 
 
+

*4 materials (this can either be [[Iron]] , [[Gold]] , [[Diamond]]s , [[Emerald]]s , [[Copper]], [[Tin]] , Silver or Zinc)

−

*4 ingots / individual crystals (diamond, emerald)

 
−

*1 block (same type as ingots)

+

*1 block (same type as )

−

*3 Logs (any type)

+

*3 Logs (any type)

 
+

*1 [[Chest]]

 
+
 

{{Grid/Crafting Table

 

{{Grid/Crafting Table

 

|A1=Iron Ingot

 

|A1=Iron Ingot

Line 42:
Line 30:
 

|Output=Reinforced Iron Chest

 

|Output=Reinforced Iron Chest

 

}}

 

}}

−

Replace the Ingots and Block of with an appropriate material.

 
 
 
−

[[File:Chests_re.jpg|thumb|right|150px|All single reinforced chests, with iron, gold and copper double chests behind]]

+

[[File:Chests_re.jpg|thumb||150px|All single reinforced chests, with iron, gold and copper double chests behind]]

−

[[File:Reinforced_Chest_copy.png|thumb|right|150px|Interface of the reinforced chest, in comparison to the normal inventory and without Inventory Tweaks.]]

+

[[File:Reinforced_Chest_copy.png|thumb||150px|Interface of the reinforced chest, in comparison to the normal inventory and without Inventory Tweaks.]]

 
+
 
+

==Types==

 
+

There are several types of Reinforced Chests:

 
+

*[[Reinforced Iron Chest]]

 
+

*[[Reinforced Gold Chest]]

 
+

*[[Reinforced Diamond Chest]]

 
+

*[[Reinforced Emerald Chest]]

 
+

*[[Reinforced Copper Chest]]

 
+

*[[Reinforced Tin Chest]]

 
+

*[[Reinforced Silver Chest]]

 
+

*[[Reinforced Zinc Chest]]

 
 
 

==Notes==

 

==Notes==

 

*Reinforced chests are not compatible with [[Inventory Tweaks]], so there is no way to automatically sort them or to use other Inventory Tweaks functions.

 

*Reinforced chests are not compatible with [[Inventory Tweaks]], so there is no way to automatically sort them or to use other Inventory Tweaks functions.

 

*In version 1.55 of Inventory Tweaks, the inability to sort has been fixed, but is not for version 1.5.2 which is what Hexxit uses.

 

*In version 1.55 of Inventory Tweaks, the inability to sort has been fixed, but is not for version 1.5.2 which is what Hexxit uses.

 
+

*Some of the types of reinforced chests (i.e. [[Siver]] and [[Zinc]]) are not craftable as the mods containing the metals they require are not found in the Hexxit modpack.

−

* Using a [[Storage Capsule Station]] to contain {{PAGENAME}} will cause the chest to become bugged, and will crash the game.

+

*Using a [[Storage Capsule Station]] to contain will cause the chest to become bugged, and will crash the game.

−

* [[Chest Transporter]]s will not transport {{PAGENAME}}s

+

*[[Chest Transporter]]s will not transport

 

[[Category:Better Storage]]

 

[[Category:Better Storage]]

−

[[Category:Containers]]

+

[[Category:]]
---
Revision as of 17:41, 22 October 2019
The Reinforced Chest is a new variant of normal chests added by the Better Storage mod that comes in different types of metal reinforcement. They differ from Vanilla Chests in a few ways. They have 12 extra slots for storage and are resistant to Creeper explosions. There are 8 variants of reinforced chests: Iron, Gold, Diamond, Emerald, Copper, Tin, Zinc and Silver. All of them, except for Zinc and Silver as their metals do not exist in Hexxit, are craftable. The materials only affect the look, not the quantity that they can hold. You can also lock your reinforced chests by right-clicking the chest with a Lock. They are classified as wooden blocks and as such can be destroyed most efficiently by using Axes.
Just like their normal Minecraft counterparts, they will form a double chest if two Reinforced Chests of the same mineral are placed next to each other.
Crafting
There are a total of eight reinforced chest variants. They are all crafted similarly. You will need:
1 material block (same type as the material)
3 Logs (any type)
1 Chest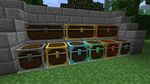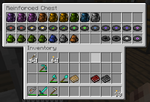 Types
There are several types of Reinforced Chests:
Notes
Reinforced chests are not compatible with Inventory Tweaks, so there is no way to automatically sort them or to use other Inventory Tweaks functions.
In version 1.55 of Inventory Tweaks, the inability to sort has been fixed, but is not for version 1.5.2 which is what Hexxit uses.
Some of the types of reinforced chests (i.e. Siver and Zinc) are not craftable as the mods containing the metals they require are not found in the Hexxit modpack.
Using a Storage Capsule Station to contain Reinforced Chest will cause the chest to become bugged, and will crash the game.
Chest Transporters will not transport Reinforced Chest.