Reinforced Glass Wall
ID
1071:1
Stackable
Yes (64)
Type
Building Materials
Craftable
Yes
Light Emitted
0
Blast Resistance
25
Opacity
Non-Opaque
Smeltable
No
Added By
Artifice
Reinforced Glass Wall is a block added by Artifice. It is the second tier of glass wall blocks. The next step up is the Industrial Glass Wall. It will 'connect' to any Reinforced Glass Walls adjacent to it.
Crafting
Edit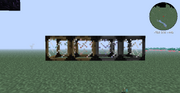 It has sound of stone-based block, rather than glass-based block sounds.