For Hexxit Gear Scale Armor, see Scale Armor (Hexxit Gear).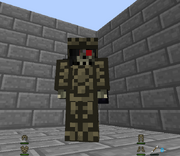 Scale Armour is armor crafted with scales. Scales can be obtained by killing Armadillos, Lizards, Elephants, and even in random loot chests.
They can be plated with various precious materials, e.g. diamond and gold, to increase durability. Plate them by placing the armor piece in the center of the crafting grid and fully surrounding it with your chosen material. The upgraded scale armor has the same armor contributions as their corresponding vanilla counterparts.
Scale Helmet (0.5 Armor Points)

Scale Chestpiece (1.5 Armor Points)

Scale Leggings (1 Armor Points)

Scale Boots (0.5 Armor Points)

The Scale Armor can also be "plated" with precious metals, e.g. Iron, Gold or, Diamonds which increase its protection rating.
It is only as good as the type of armor you plate it with. I.e. Diamond plated will only be as good as normal diamond armor.
Scale Armor Gallery
Edit
Community content is available under
CC-BY-SA
unless otherwise noted.