Secrets! is an item added by Better Dungeons Mod. Secrets! is a written book published by ArrgChocolate, that can be found in a Chest within a Mountain Castle. The contents of the written book is read as follows:
Hovering shadows into your head...
Look up!
Find the skull under the pit.
Mine down until you see stone turn into life, and then mine into dusk.
The riddle in Secrets! refers to a Skeleton Skull sitting the Village portion of the Mountain Castle, directly under a 2x2 hole of one of the rooms in the castle. Facing the Skull, dig directly underneath it until you hit a Cobblestone Monster Egg. From there, proceed to your right where the sun sets. Beware: several more Cobblestone Monsters Eggs await along the path you mine. Keep going until you see a pathway on your right that leads into the Skull Room.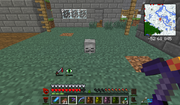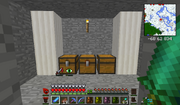 Community content is available under
CC-BY-SA
unless otherwise noted.