Visit the Minecraft Wiki for basic information about Snow Golem
Snow Golem is a mob added by vanilla Minecraft. Though it does not damage most mobs, it can push mobs back and do 3 damage to blazes and 1 damage to the Ender dragon. It can drop up to 15 snowballs when killed. You can create it using 2 snow blocks in the shape of an " l " and then put either a pumpkin or jack-o-lantern. You must put the pumpkin or jack-o-lantern on last. Lava, fire, rain, and water will hurt it.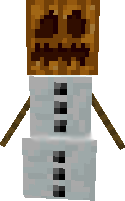 Community content is available under
CC-BY-SA
unless otherwise noted.