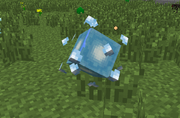 A Soul is an entity one can obtain by slaying any mobs with any scythe power attack (used via right-click) or SoulSteal-enchanted weapons from the Harken Scythe mod. One can then collect them with empty or soul-filled Essence Keeper or Essence Vessel.
After reaping souls, right-click on it with an empty or soul-filled Essence Keeper or a Essence Vessel to collect it.
Farming souls is easier than farming bloods as a soul, being an entity, does not require a solid block to land on.
The easiest way to farm Souls is via a monster-grinder (especially a Soul Cage grinder). 
Any area with Monster Spawners
Bosses drop copper-colored Souls that fill a Keeper or Vessel to full capacity instantly. It is most efficient to collect these souls with empty vessels.
Harbingers drop green souls. These souls are worth ten regular souls.
Spectral Miner spawns as a soul. Upon attempting to collect the soul, the miner will reveal itself and attack the player.
Community content is available under
CC-BY-SA
unless otherwise noted.