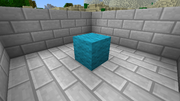 Soulweave is a mystic fabric entwined with souls from a Soul Crucible working with an Altar of Souls. It is very similar to Cyan Wool in color but is slightly brighter.
Crafting
It costs 5 souls and a piece of wool to create a piece of Soulweave in the Altar of Souls, just like the Livingmetal Ingots.
Armor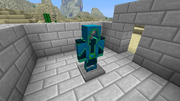 There is only 3 things that Soulweave can be used for, decoration and armor, and when you drink souls from a soul keeper or vessal you get longer positive affects.
To make the Soulweave set you just have to craft it like regular armor, like leather or iron armor.
It grants the same protection as Leather Armor.
Effects
Soulweave causes the bad effects of drinking souls from the Soulkeeper, apart from hunger, to disappear.
You will only experience the positive results of drinking souls while wearing Soulweave Robes. However, the whole set must be equipped before there is any effect.