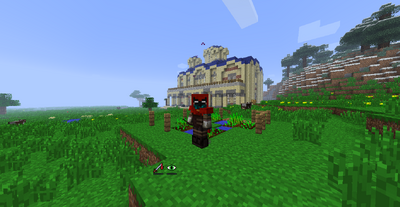 Thief Armor
is part of the
Hexxit Gear
 mod. It is one of four sets of Hexxit Gear Armor.It consists of Thief hood,Thief Chestpiece,Thief leggings and Thief boots.The hood is red with a black eye mask,Chestpiece is brown with a red cape,leggings and boots are brown too. When all four parts of the armor are equipped, the player will get permanent Night Vision, Strength, and Speed effects until he takes off the armor, as well as giving the player the maximum 20 Armor Points, the equivalent of a full set of
diamond
armor. It is best suited to the 'Rogue' style of gameplay, charging in and out with a fast weapon like a
Trickster dagger
or a
Rapier
, outmaneuvering opponents.
Abilities
Edit
Once all four pieces of armor are equipped, the player acquires unlimited Night Vision, Strength, and Speed potion effects.
The speed buff works while airborne, allowing sprint-jumping to be significantly faster than sprinting. Mounts are also affected, causing any Chocobo in particular to be extremely fast.
It is not uncommon for the Thief Armor's speed to cause the game to load chunks too slow, causing the game to lag or even crash.
For the full set you will need:
Thiefs Hood (3 Armor Points)

Thiefs Chestpiece (8 Armor Points)

Thiefs Leggings (6 Armor Points)

Thiefs Boots (3 Armor Points)
Entering a Dimensional Door with the Night Vision buff active will cause everything to appear black until the buff expires. Only particle effects, such as torch flames or notes from note blocks, will be visible. The Tribal Armor also shares this bug.
In Survival mode, there is a rare bug that causes the speed buff to not function while running or walking on the ground.
Riding a Chocobo or other high speed mount with Thief armor might cause chunks not to load in time,causing high lag or even crashing the game.
Community content is available under
CC-BY-SA
unless otherwise noted.