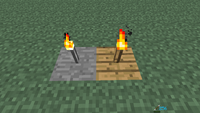 Visit the Minecraft Wiki for basic information about Torch (Disambiguation)
Torch (Disambiguation) is an item and block added by vanilla Minecraft. It is used to give light when placed. There is a stone variant added by Tinkers' Construct that requires a Stone Rod instead of a Stick.
Crafting
Any of the sticks added by Natura may be used in place of the vanilla Minecraft stick to still create 4 torches.
Stone-Rod Variant
Uses
It is used in the crafting of Golden Lanterns, Desks, and Torch Lever.