Tribal Armor
is one of four sets of armor from the
Hexxit Gear
mod that is made with
Hexical Diamonds
. When fully equipped, the player receives infinite
Strength
,
Night Vision
, and
Jump Boost
III.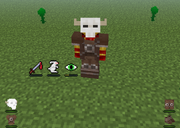 Tribal Armor
Edit
When fully equipped, Tribal Armor grants the maximum of 20 Armor Points, the equivalent of wearing full Diamond armor, along with the aforementioned Strength, Night Vision, And Jump Boost III. It is the armor for the 'Berserker' style of gameplay, as it is suited to offensive-style melee attacks and charges. Alternately, it can be used for the 'Ranger' style, as the Night Vision allows you to see better in darkness and the Jump Boost allows you to reach high places and shoot mobs. For holding off large numbers of mobs(such as those you might find in a Better Dungeons dungeon), it is recommended that you use a Legia Bow from the More Bows! mod.
For the full set you will need:
5 Bones
6 Iron Ingots
10 Leather
2 String
Tribal Helmet (3 Armor Points)

Tribal Chestpiece (8 Armor Points)

Tribal Leggings (6 Armor Points)

Tribal Boots (3 Armor Points)
It may be important to remember that Jump boost does not completely negate fall damage, making enchanting Feather Falling onto the boots or keeping a Golden Feather around highly recommended.
There is a bug with Dimensional Doors where you can't see anything except some particles while you have Night Vision, a potion effect obtainable from the set of Tribal Armor. This makes the use of Dimensional Doors while wearing Tribal Armor inadvisable.
The helmet is the icon for Hexxit.
Community content is available under
CC-BY-SA
unless otherwise noted.