Unknown Meteor is a type of meteor that can fall from the Falling Meteors Mod. It is a very rare meteor and has the same variance in size as the other meteors. Upon impact, they create a cluster of the various types of meteor ore (Meteorite, Frezarite, and Kreknorite) in a 3x3 cube, as well as 6 Glowstone (1 on each side). Inside of them is a chest that will contain a random assortment of Falling Meteors related items.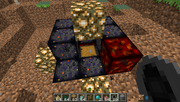 The Unknown Meteor's Chest can contain:
Any Type of Tools and Armor made of Kreknorite, Meteorite, or Frezarite
Kreknorite, Meteorite, or Frezarite Chips
Any type of Meteor Summoner
Redstone Dusts
It is possible for an Unknown Meteor to have Unknown Meteor Summoner as loot, so there is a possibility of infinity Unknown Meteor.
Community content is available under
CC-BY-SA
unless otherwise noted.