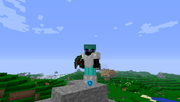 I love to play Hexxit. It is so much fun!
I currently play on a hardcore world that I have never cheated on (except when I forgot cheat mode was on)
The picture was taken in that world. -->
My favorite pages
Gallery
Pictures I took and have uploaded here!