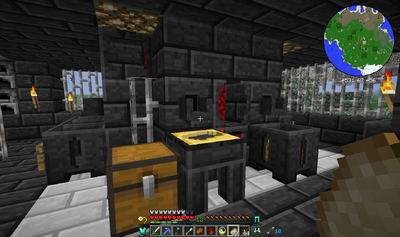 Chicken Smack. Best product ever?
My recommendations for starting a new Hexxit game:
1. Punch trees (duh).
A. Crafting table.

Make this immediately (first log).

B. Make all tools.

Axe first (take advantage of Treecapitator.
Pickaxe second.
Shovel third.

C. Continue to farm trees until the sun sets.

Keep eyes open for lava sources.
2. Dig a small shelter.
If possible, find a location between biomes or near several biomes.
Farm up cobble and anything else while the night persists.
A. Make stone sword.
B. Make chests.
C. Dig into the ground in your shelter.
D. Make like 10 furnaces.
E. Begin cooking logs for charcoal.
3. When it's day, clear mobs from around your hideyspot, then farm gravel, sand and clay. Ideally, gather 82 of each (one stack + 18 more of each). This is enough for one decent Smeltery.

4. Continue to use wood / cobble tools.

5. Pick an actual home that you want to settle into.

6. Make Smeltery.

7. Make all Tinkers' Construct tables.

8. Go nuts.
Community content is available under
CC-BY-SA
unless otherwise noted.