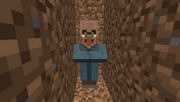 Visit the Minecraft Wiki for basic information about Villager
Villagers are added by vanilla Minecraft, which spawn in generated NPC Villagers.
This is about a Blue Villager from Hexxit, for normal villagers, visit link above.
Tinkers' Construct adds an additional villager, dressed in blue, but currently seems incomplete. In NPC Villages, this villager live in a house with a Chest filled with Patterns and Tool Pieces.
Offers
The Blue Villager only have 2 possible trades: