Visit the Minecraft Wiki for basic information about Zombie
Zombie is a mob added by vanilla Minecraft. It is a basic mob in minecraft that uses mild melee attacks and move fairly slow. Zombies tend to spawn in small groups of 2-4 and are common encounters in the Twilight Forest and the overworld. They are often only overwhelming in high numbers. Zombies can randomly pick up items and will equip them if they are armor pieces (this include armor added by hexxit), and will drop them after being killed (or they obtain better armor).
Drops
They drop Rotten Flesh, Zombie Heads (if the killing weapon have Beheading Enchantments, otherwise, it's Rare), Carrot, Potato. Weapon/armor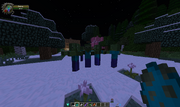 they spawn with is a rare drop, and weapon/armor they pick up from the ground always drop.
also, like any other mob, it can drop Chocopedia.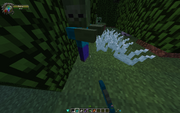 Community content is available under
CC-BY-SA
unless otherwise noted.