The Zombie Scepter is an item added by Twilight Forest that can be used to summon loyal zombies that fight for the user.
The Zombie Scepter is one of three scepters (the others being the Scepter of Twilight and the Scepter of Life Draining) that can be dropped as loot upon defeating the Twilight Lich boss.
When right-clicked it will summon a Loyal Zombie that will follow the player and fight hostile mobs around them, except Creepers. The scepter has a base durability of 9 and summoning zombies uses up durability with each follower.
The scepter can be enchanted with Unbreaking to last longer, and can be recharged by placing it in a crafting grid along with a piece of Rotten Flesh and a Potion of Strength. If enchanted, this will remove the enchantment.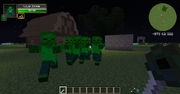 The Loyal Zombie will follow the player and behave similar to a Wolf: Idle Loyal Zombies will attack hostile mobs around you (except Creepers), and if the player attacks a particular mob the zombies will swarm it instead.There is no limit of the zombie spawning
A Loyal Zombie is a textured similar to a vanilla Zombie, except they are tinted green. They have 40 hit points, do not burn in the sun, are spawned with Strength I and will last exactly 1 minute before they begin to burn and die.
The Strength effect is applied for 1 minute and how long the effect lasts can be viewed below a Loyal Zombie's health bar as a handy indicator how much longer they have before they begin to die.
Community content is available under
CC-BY-SA
unless otherwise noted.